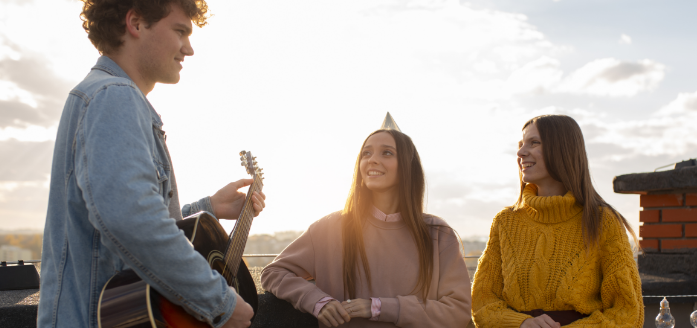 10 Things To Do With Your Friends on a Weekend
The weekend is the most awaited day of the week, and everybody plans to do something unique on it. You plan and get away with your friends, colleagues, and family to get your vibe in check. Certain things'll cost you a lot of money, but who says you can't spend a day without burning a hole in your pocket. Every experience becomes worth it when it is spent with friends and family. You should try new adventures and go out to explore the world. 
To take you out of your routine lives, we have listed down some things that you can plan with your friends for a great weekend getaway:
Movie Marathon
Movies are amazing when it comes to passing your quality time with your friends. You can sit at home, have some popcorn, try out light dinner and watch movies back to back. You can save your money and have a perfect weekend watching the latest movies and shows that you love.
Play board games
Playing game is always fun, and it'll keep everybody entertained. It doesn't matter if you're two or more 2, you'll always find some games that can be played among your friends and give you a fantastic weekend filled with fun and laughter. 
Go for a picnic
Spending time with your friends has always been therapeutic. Picnics are always fun, and it gives you a day to refresh yourself with some good talks, music, fun, and laughter. They generally are small getaways in the parks where you can eat with your friends and chill together.
Attend any free event happening in your city 
Look out for some fun events that you can enter for free. This way, you can step outside of your home and entertain yourself. Events are more fun with your friends because of the gossiping and commenting you can do together and create a laughter riot.
Clean your closet
I know I sound crazy, but cleaning your closet is a big task. Invite your friends for a stay, and make them help you clean your closet. When clearing your closet, you'll find things of no use or things you think you have lost somewhere. It's a whole new adventure when it comes to cleaning it. 
Explore the nature
Go for a walk and admire the beauty of nature. You'll feel serene and more connected to the ground. This will rejuvenate your soul and make you feel better. 
Volunteer for a charitable cause
It's the best thing when you can help the people around you. Helping some people will definitely make a difference in both of your lives when you go out. 
Learn a new skill
Take your friend and join a course that'll help you learn a new skill. This way, you can be productive on weekends which will eventually help you for your better prospects.
Go for long drives
Music, friends, and long drives are a deadly combination. Take a car, stuff some snacks and get moving.
Try to have home-cooked food and host a party with your friends. 
What is better than dancing and eating all day. Get your friends, put on some music, cook together and have lots of fun.